Moon Modeler is a data modeling tool for MongoDB, PostgreSQL, MariaDB, MySQL, SQLite, Mongoose and GraphQL. It can also be used for solutions like Cosmos DB, AWS Amazon DocumentDB or Heroku Postgres and others. The software belongs to the data modeling and schema design tools category and can be used to model hierarchical database structures. That's why Moon Modeler can be used for noSQL data modeling.
Embedded documents can be displayed inside MongoDB collections, JSON structures in MariaDB, MySQL, PostgreSQL or SQLite entity relationship diagrams (ERD). Links and relationships between two collections/tables are represented by lines.
Check out the key features and benefits in a short introductory video.
Key features
Quick start guides
Read the following pages for more information and instructions.
Quick start guides are available for:
MongoDB PostgreSQL MariaDB MySQL SQLite GraphQL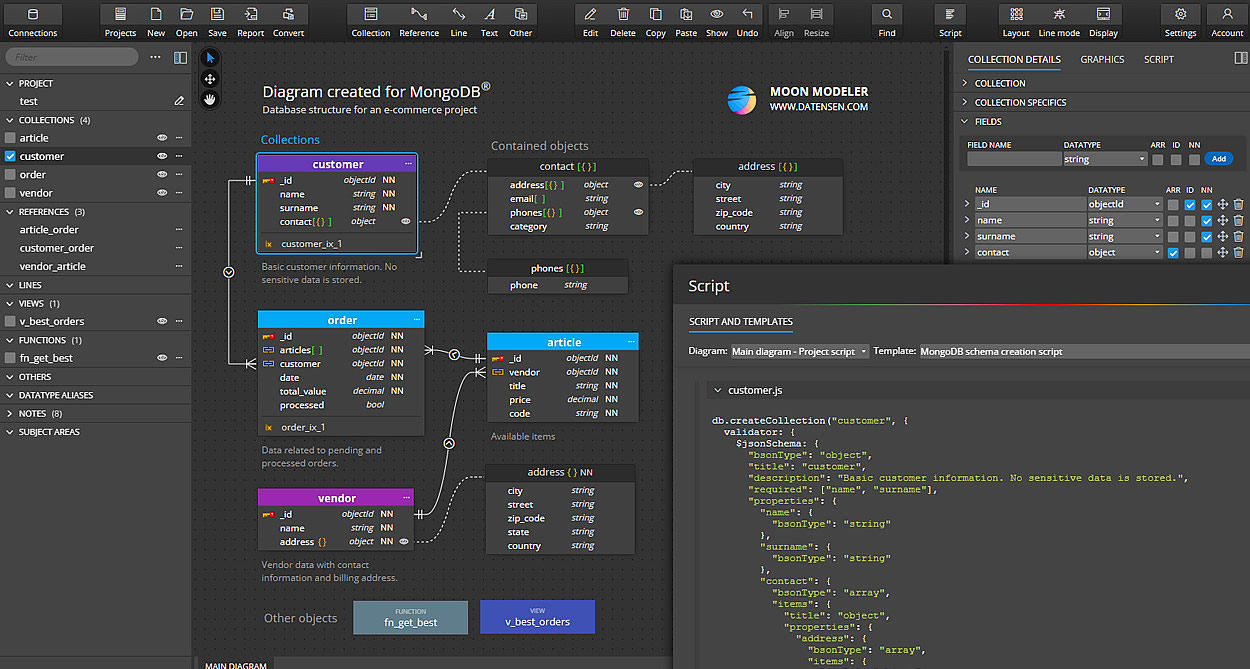 Editions
Moon Modeler is available in two editions, Basic and Professional. The Professional edition includes all the features of the Basic edition plus
Compare editions Purchase a license
Videos
See short videos and learn how to use Moon Modeler
How to draw ER diagrams for MongoDB
How to visualize a MongoDB schema