Published: 27.7.2022
We are pleased to introduce the new Perseid Modeler – a modeling tool for JSON Schema and also for designing OpenAPI structures. This is a new product in our portfolio, which complements Moon Modeler. It brings the ability to visually model more complex JSON Schema and OpenAPI structures and create diagrams by importing from a file.
Visit the Perseid Modeler user interface page for more information about the product UI.
Key features
visual JSON Schema creation using tree diagram and ERD-like diagrams
support for JSON Schema structures including allOf, oneOf, anyOf, not operators
support for modeling JSON Schema conditions if, then, else
OpenAPI schema creation including specific properties
designing relevant OpenAPI objects
displaying diagrams including descriptions and important properties
importing existing schemas from files
searching for objects in structures
generating detailed HTML reports
export to PDF
various options for displaying diagrams and details
script generation and more
Quick start guides
Supplement to Moon Modeler
In our most popular product, Moon Modeler, you can model database structures and define JSON structures to some extent. Moon Modeler allows you to infer nested structures using reverse engineering, however, for for more accurate JSON schema modeling, including e.g. operators (allOf, anyOf, oneOf) or conditions (if, then, else) in a JSON schema, the new Perseid Modeler is the right tool.
Moon Modeler and Meteor Modeler – new releases
We have also released new versions of Meteor Modeler and Moon Modeler. The products contain bug-fixes and minor feature and user interface improvements. For example, a small edit icon that opens a new modal dialog where longer values can be easily entered.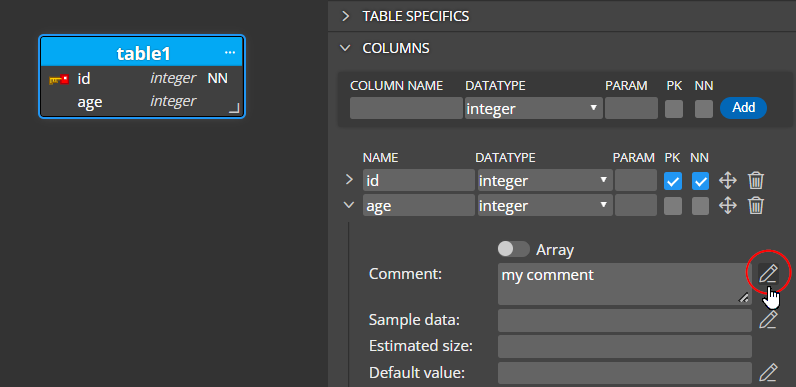 Licensing model
If you purchase a license for any product in our portfolio, you get a perpetual license and a subscription for 12 months. The subscription does not renew automatically, so you can upgrade to a newer version when it contains enough great improvements for you. More information about the licensing model can be found here. If you purchase a multi-year subscription, you can save an interesting amount.
Have a suggestion?
If you have a suggestion, an idea for improvement, or if you find a bug, feel free to email us at info@datensen.com.
Thanks!